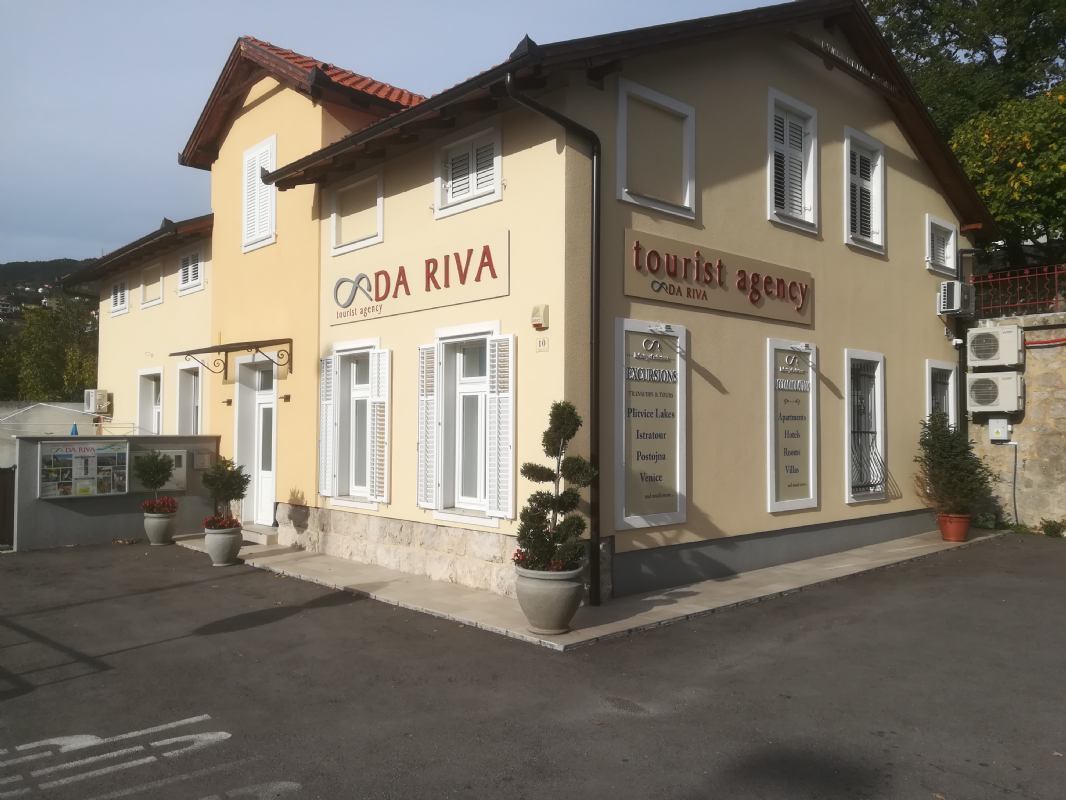 Our agency was founded in 1996 employing 3 persons at that time. Up until this date it has grown to 10 employees.
The main activities of the company are in the field of incoming tourism such as:
accommodation (hotels, private accommodation and villas)

transfers with own means of transportation – car, vans, minibuses and buses

daily excursions with English, German, Italian, Croatian and Dutch speaking tourist guides

tours for groups through Croatia , Slovenia, Bosnia and Herzegovina, Serbia and Macedonia

allotments

MICE – meetings, incentives, conventions and events

wedding organization
Da Riva's office is situated in the centre of Opatija, the cradle of tourism in Croatia, beside Dubrovnik the most advanced tourist resort in the country.
Therefore our stuff is highly qualified, speaks a minimum of three foreign languages and has la large experience in all above mentioned fields of organisation.
Good contacts with the hotels and other accommodation structures, having own busses guarantees competitive rates of all the services that Da Riva offers.
Da Riva offers as well a large programme for incentive groups and events in the Kvarner, Istrian region and in south Dalmatia (Dubrovnik). It consists in a big number of outdoor activities and programmes for which specialised and trained team of guides are taking care of. All the stuff working on incentive programmes are licenced for the field of work they are in charge of.
Conventions and meetings as a part of the MICE (meetings, incentives, conventions, events) department are one of Da Riva's biggest activities. The number of conventions (Croatian and international) and the fact that some of them are held in Da Riva's organisation already for years is the company's recommendation.
As a stabile company with a qualified staff and modern equipment, the agency Da Riva is able to guarantee for the quality of its services.
BANK ACCOUNTS:

Privredna banka Zagreb d.d. HR382340009-1117043203 SWIFT: PBZGHR2X

Zagrebačka banka d.d. HR122360000-1501264692 SWIFT:ZABAHR2X

Erste & Steiermärkische Bank d.d. HR2824020061100704114 SWIFT: ESBCHR22

MB.1208632
OIB:HR69354529554
Kod:HR-AB-51-040037632
NOTIFICATION OF METHOD FOR GUESTS COMPLAINS

Pursuant to Article 8 Paragraph 2 of the Law on Consumer Protection (Narodne novine Official Gazette No. 79/07 and
125/07 - corr. 79/09 and 89/09 - corr.), we inform our clients that complaints regarding the quality of ourservices can be submitted in writing to:

Address: Tourist agency Da Riva d.o.o., Nova cesta 10, 51410 Opatija
e-mail da-riva@da-riva.hr
telefax +38551272482

GUEST
Full name
Address for submitting the response

You will receive a response to your complaint in writing within 15days of receipt of the complaint.